ThreatFabric Appoints Jacqueline Nijzink as Chief Operating Officer
09 November 2023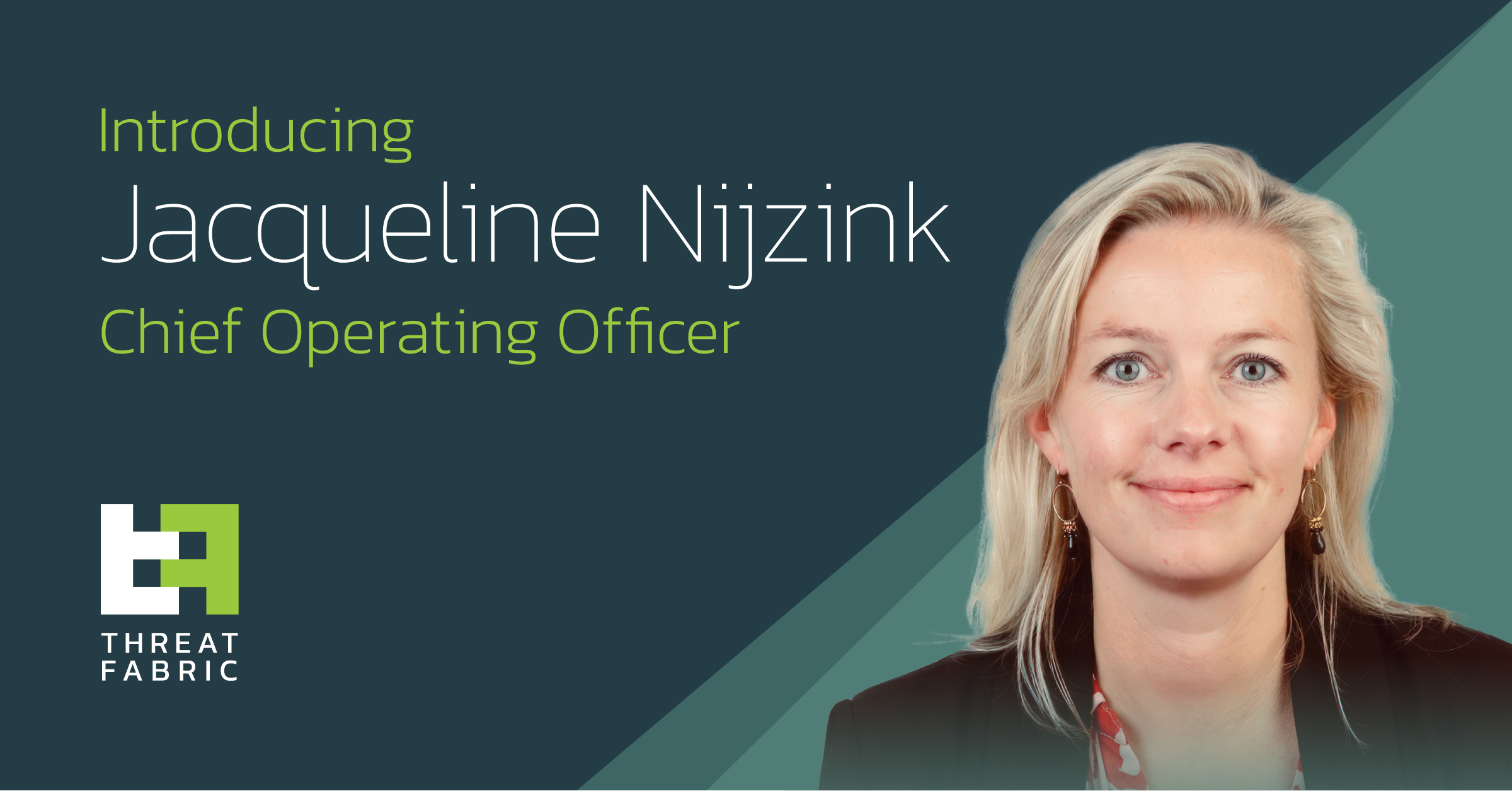 Announcement
Amsterdam, The Netherlands, Thursday 9th November, ThreatFabric, a renowned provider of fraud detection solutions and intelligence tailored for the financial services sector, is delighted to announce the appointment of Jacqueline Nijzink as the Chief Operating Officer.
Prior to joining ThreatFabric, Jacqueline held several senior leadership roles within ABN AMRO, leveraging her significant business as well as fraud prevention and detection experience to protect the bank and its customers against digital crime. In her most recent role as Head of Channel Security (SVP) at ABN AMRO, she was responsible for defining and implementing the bank's e-fraud prevention and detection capabilities.'
'I am extremely excited to start as Chief Operating Officer of ThreatFabric, I look forward to working alongside the talented people of ThreatFabric and helping the company expand the reach of their industry-leading anti-fraud solutions to help financial institutions protect their customers. I look forward to driving our efforts to shape the future of the fraud landscape together and make a positive impact on society.'
"ThreatFabric is thrilled to announce Jacqueline's appointment as Chief Operating Officer, marking a significant milestone in our journey of growth and innovation. Jacqueline's tenure at ABN AMRO Bank has been a period of remarkable collaboration and mutual inspiration. Her contributions, particularly in advisory and coaching capacities, have been critical to the success of numerous projects, including expanding our Online Anti-Fraud suite to encompass Behavioural Biometrics technologies. Jacqueline's foresight and strategic problem-solving expertise were pivotal in seamlessly integrating these technologies within ABN AMRO Bank, demonstrating her ability to navigate complex stakeholder environments. As we look to the future, Jacqueline's vision and leadership are invaluable to our ongoing success and innovation."

– Han Sahin, CEO of ThreatFabric
About ThreatFabric
ThreatFabric is a leading company in the fields of online fraud, mobile malware, and threat intelligence. Founded in 2015 and based in Amsterdam, ThreatFabric offers cutting-edge, data driven solutions to protect the financial sector. Using their threat intelligence and anti-fraud platforms, ThreatFabric helps major brands prevent malware assisted fraud, scams, account takeover, device takeover, and information theft. Ultimately, ThreatFabric not only protects online channels, but also ensures customer confidence, trust and loyalty.